Hostile Environment Awareness
Training (HEAT)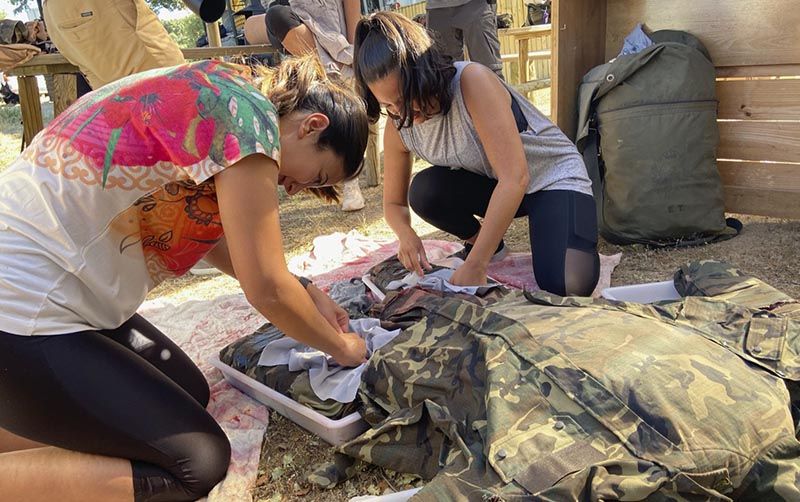 The HEAT course is a five-day training programme in which participants will learn how to deal effectively with critical or emergency situations while deployed in hostile environment missions. This training is aimed at improving the capabilities of the participants in their daily work in conflict situations.
Background
Since 2003, more than 500 students have benefited from our course throughout its 25 editions. The HEAT course is integrated within our REACT program (Rapid Expert Assistance and Cooperation Teams for Conflict Prevention, Crisis Management and Post-Conflict Rehabilitation) as a practical complement to the theory taught for work in Peace Missions.
The need to train people who are already working or will be working in risk situations has led Helsinki España to launch the HEAT course on an individual basis, offering the possibility of training more people and for shorter periods of time.
Objectives
Intended for business and humanitarian professionals to be deployed in high-risk areas.
To provide participants with the necessary skills to deal with situations in which armed conflicts arise, their key actors and their impact on civilians.
To improve participants' capacity in conflict resolution and protection of civilians in armed conflicts.
To strengthen the competence and confidence of participants to deal effectively with risky or critical situations, as would be the case when working in peacekeeping missions.
To provide participants with useful and simple tools that allow them to react as effectively as possible to risk situations.
Open calls for applications
JUNE: 27 June – 1 July, 2022. Deadline for applications: 27 May, 2022.
SEPTEMBER: 19 – 23 September, 2022. Deadline for applications: 15 August, 2022.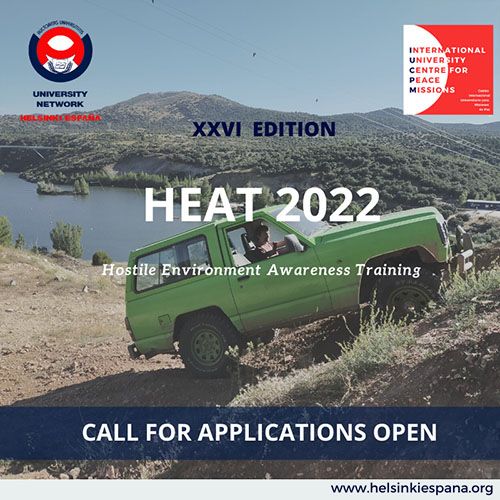 Basic life support in the absence of medical personnel: first aid
Protection of sensitive and classified information
Orientation, map reading and GPS navigation
Procedures and means of communication (use of radios)
4×4 vehicle driving techniques
Driving in convoy
Stress management
Personal health care
Protection and response to threats of sexual violence
Set of threats, associated risks, and personal security
Risk management
Mobile security: protection and security procedures when traveling in vehicles
Managing threats related to large concentrations of people, demonstrations, protests, andriots
Hostage taking and survival. Kidnappings
Weapons, mines, improvised explosive devices (IEDs) and unexploded ordnance (UXOs)
Members of security forces and bodies
Medical staff and experts in trauma psychology
Safety managers
HEATS's fee is € 2000 which includes the following services.
Incluye:
Diploma
Five days HEAT course (field trip, equipment, and simulations)
Transportation process (Madrid-Segovia)
Meals and accommodation (shared room between two alumni-2 individual beds)
Reading material
4×4 vehicle driving
Escuela 3 Armas
Auto Rescate 4×4
Ministry of Defense
Health personnel with field experience
The course will be taught in Spanish or English depending on the number of participants.
If you are interested in applying for HEAT 2022, please send us a copy of the following documents:
HEAT Registration Form (available here)

Resume/CV

Short motivation letter

Proof of highest education level achieved

Recent digital photo, passport size
All application documents should be sent to iucpm@helsinkiespana.org.
Deadline for applications:
JUNE: 27 June – 1 July, 2022
SEPTEMBER: 19 – 23 September, 2022
Participants who successfully complete the course will receive a diploma from the International University Center for Peace Missions in Helsinki Spain.
The course uses a variety of methodologies, including lectures and presentations, outdoor activities, and simulation exercises. 75% of the course is practical versus 25% theoretical.
The course will be held in person and with accommodation during the five days. We accept entire groups.