Youth to Youth: Educating on Human Rights and the Sustainable Development Goals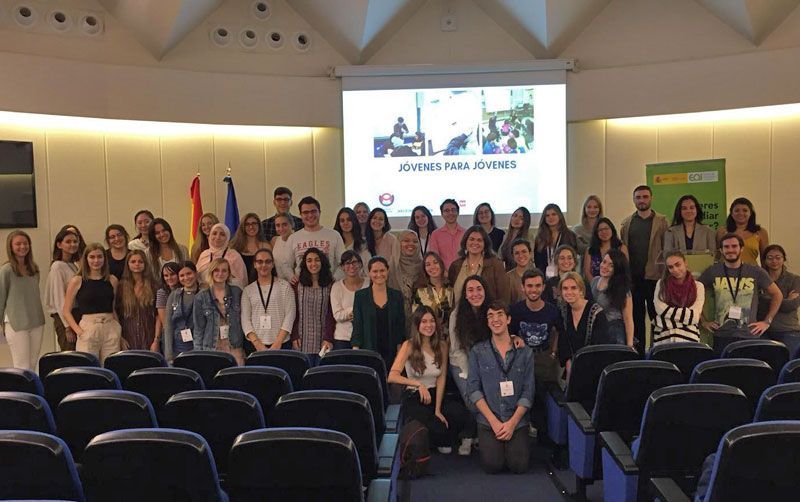 "Youth to Youth" is a human rights based project directed towards children and young university students. Through human rights training, awareness raising and the promotion of volunteering, the project contributes to developing a human rights culture in which children and young people are aware of their rights and their obligations to others, contributing to their development as responsible members of a free, peaceful, pluralist and inclusive society.
The participants of the project are university students and children from different regions of Spain between the ages of 5 to 18.
Since I was a child, I was well aware that the Earth was everyone's heritage. I was also sure that no one should ever be discriminated because of its race, country of origin or sexual orientation. However, I thought that everyone held the same beliefs...
Thus, I grew up believing that we were moving towards some sort of egalitarian world in which war and discrimination were a thing of past. Nevertheless, as time went on, I discovered that this was, in fact, false and that the defense of Human Rights was something that a lot of people, sometimes anonymously, sometimes publicly, had been fighting for with sweat, blood and tears.
Thanks to the Youth to Young project, I was able to hear, first hand, the testimony of those agents of change, the ones that have given us a wide range of solutions when facing the systematic violation of human rights, directly connected with the non-application of basic principles such as the freedom from torture and inhuman or degrading treatment.
The active phase of the project, the one in which we had to teach what we had learnt from the lectures, was motivating and stimulating. Despite having taken part in similar projects (through the Erasmus program in schools located in Lodz, Poland), I did not expect students to react with such an energy and precision when discussing the contents. Although nowadays it may seem like we are going downhill, Humanity is still making its way.

Carlos Barja Márquez
Objectives
This project aims to promote the respect of Human Rights and the Sustainable Development Goals (SDGs), contribute to effective gender equality, promote environmental sustainability and sustainable consumption, promote a violence free education and peaceful coexistence, contribute to the protection of vulnerable groups at risk through awareness raising, and promoting volunteering as a mean to encourage youth participation.
Phases
Educating university students on Human Rights and the Sustainable Development Goals
Educating parents on emotion management and teaching staff on gender equality
Raise awareness about human rights in schools through educational projects led by university students
Development of human rights learning materials
Contents
The content of the training course in human rights for university students is the following:
Once the training program has concluded, university students put their knowledge into practice in schools that have previously agreed with Helsinki España to take part in the project. They encourage participation by making use of dynamic games and interactive activities, far from being mere listeners; they become the key actors of the project in charge of the transformation of their communities. The combination of training and volunteering is the most effective formula for the assimilation of concepts and acquisition of values, making possible a very positive interaction with children.
As of now, we have educated 1,867 volunteers from 64 different universities on Human Rights and SDG. Through them, we have raised awareness amongst more than 32,600 children from more than 100 schools located in different regions of Spain, namely Andalusia, Castilla y León, Castilla la Mancha, Valencian Community, Galicia, Canary Islands, Madrid, the Basque Country, the Principality of Asturias, etc. The project has been implemented internationally in countries like the United States, Italy, Mexico or Portugal.
We have also trained around 200 parents on "emotional intelligence and conflict resolution"; as well as 100 teachers on "gender equality and human rights".
If you want to be part of our team and you are more than willing to be educated on Human Rights and raise awareness, this is your opportunity!