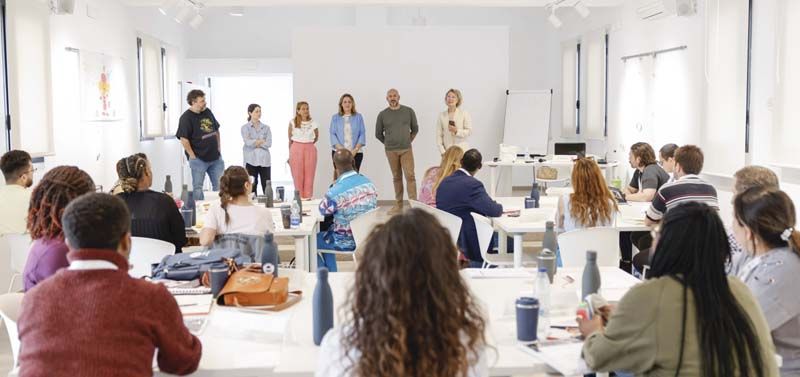 This May 29th began in the facilities of the Environmental Education Center (CEA) Carabineros de l'Alfàs del Pi the REACT course, which is an international training program on peace process and conflict prevention, with the participation of 38 people from 22 different countries.
This program is organized by Helsinki España, which is an association that aims to train professionals from different fields interested in improving their knowledge in conflict prevention, crisis and post-conflict management, rehabilitation and development, as well as their practical skills for field work in international peace operations.
The inauguration of the course was attended by the acting councilors of Residents, Martine Mertens, and Cooperation and Volunteering, Isabel Muñoz, and the acting mayor of Tourism, Luis Miguel Morant, who visited the CEA Carabineros to welcome the various participants of the REACT course. An informal meeting in which they have been accompanied by the president of Helsinki Spain, María Jaén Barandiaran, and the general secretary of the organization, Ángela Suárez Jaimes.
The REACT course was created in 2003 with the objective of preparing professionals with diverse career paths interested in joining the Rapid Expert Assistance and Co-operation Teams (REACT) of the Organization for Security and Co-operation in Europe (OSCE). To date, the course has trained more than 500 people.
The course uses a variety of methodologies, such as presentations and lectures, discussions, group work, practical and advanced role-playing sessions, outdoor activities and simulation exercises. Over time REACT has been renewed to include all aspects related to conflict prevention and peacekeeping in the different contexts in which peace operations take place.
The training program is divided into five modules: 'Conflict Analysis', 'Protection of Civilians', 'Challenges in Peacekeeping', 'Human Security and Complex Crimes' and 'HEAT', the latter including simulations to learn how to deal with associated risks and other critical or emergency situations during mission deployment. As in the two previous editions, four of the five modules are taught in l'Alfàs del Pi.
Since 1992, Helsinki España has been a leading organization in the field of education for peace, human rights and development, both nationally and internationally, thanks to the quality and diversification of its educational and training programs capable of adapting to a dynamic society in continuous change.
.